Have you ever noticed that you're frequently tired, have cold hands, or have excess body fat? If so, you may be suffering from a thyroid disorder. If this is the case, then you'll want to visit the top functional medicine specialist Fort Collins has to offer.  We suggest that you consider getting a functional medicine approach to a thyroid evaluation. And while these are only a few of the symptoms associated with thyroid disorder, they are some of the more common symptoms.
According to the American Thyroid Association, more than 12 percent of the U.S. population will develop a thyroid condition during their lifetime. An estimated 20 million Americans have some form of thyroid disease, and one woman in eight will develop a thyroid disorder during her lifetime. Those statistics are fairly staggering.
Not even sure what or where your thyroid is? That's okay. It's our job to keep you informed on such things. The thyroid gland is located in the middle of the lower neck and is relatively small but crucial to a healthy and thriving body.
The thyroid is a hormone-producing gland that regulates the body's metabolism. Thyroid hormones convert oxygen and calories into energy. This process is known as metabolism. Every cell in the body depends upon thyroid hormones for their metabolism. Essentially, hypothyroidism is a condition where the thyroid gland does not produce enough thyroid hormone. Hyperthyroidism, another type of thyroid disease, is a condition causing the gland to produce too much thyroid hormone. So basically, when dysfunction occurs, people either produce too much thyroid hormone (hyperthyroid) or too little (hypothyroid). Additional symptoms of hypothyroidism include fatigue, weight gain, constipation, fuzzy thinking, low blood pressure, fluid retention, depression, body pain, slow reflexes, and much more. Additional symptoms of hyperthyroidism tend to reflect the rapid metabolism that results from an oversupply of thyroid hormone. Common symptoms include anxiety, insomnia, rapid weight loss, diarrhea, high heart rate, high blood pressure, eye sensitivity/bulging and vision disturbances, and many other concerns.
Oftentimes, people who experience these symptoms will go to the doctor only to be told that their thyroid is normal, but then continue feeling lousy and completely at a loss for what to do next. This is why you may need further investigation than what is typically performed. Restore Health Center, your Functional Medicine Colorado provider, offers additional testing that can help you pinpoint exactly what thyroid complications you may be suffering from.
What sets us apart from other doctors or thyroid specialists in the area is our thyroid panels? The classic thyroid panel ordered by most physicians consists of only two tests: Total T4 and TSH. At Restore Health Center, we believe that these two tests alone do not give adequate insight into your current level of thyroid function. We prefer a more comprehensive panel, which includes: TSH, Free T4, Free T3, Reverse T3, anti-Thyrioglobulin and anti-TPO. Many practitioners are simply not familiar with those parameters and will not test for them. Here are the labs that we offer:
Free Thyroxine (T4) – Evaluates the amount of unbound T4 available to the cells and tissues for use; this is distinct from total T4 which includes both bound (unavailable) and unbound hormone.

Thyroid-Stimulating Hormone (TSH) – This is secreted by the pituitary gland and stimulates the thyroid to make primarily T4.

Free Tri-iodothyronine (T3) – Measures the amount of T3 (the active form of the hormone) available to the cells and tissues.

Anti-thyroperoxidase (Anti-TPO) Measures the levels of antibodies against this thyroid enzyme

Anti-Thyroglobulin (Anti-TG) Measures the levels of antibodies against this thyroid protein

Reverse T3 – Reverse T3 is an inactive form of thyroid that locks energy out of the cells. If there is too much Reverse T3, it doesn't matter if the rest of the thyroid panel appears to be normal: the patient will be suffering from a form of hypothyroid. In cases of chronic stress (acute illness, trauma, infection, physical stress) and starvation (yo-yo dieting) too much T4 is converted to Reverse T3.
Additionally, check out this graphic below via the Institute for Functional Medicine. It explains the different factors that affect thyroid function including which vitamins and nutrients contribute to the proper production of thyroid hormones, increase the conversion of T4 to T3, and improve cellular sensitivity to thyroid hormones.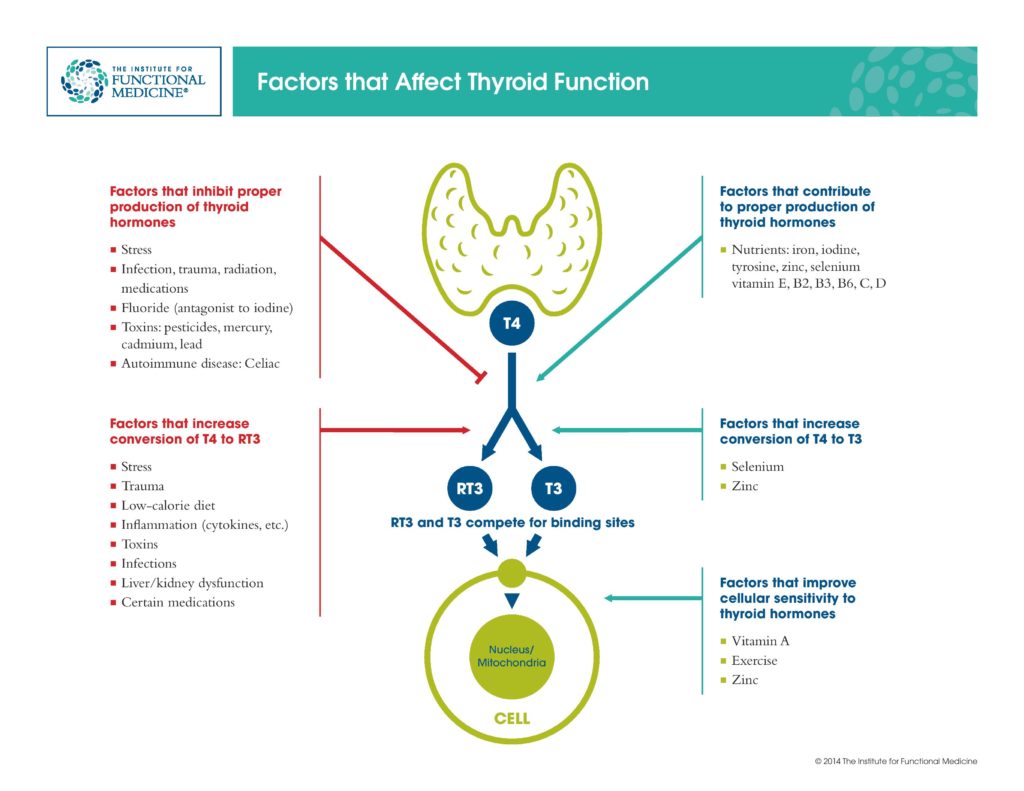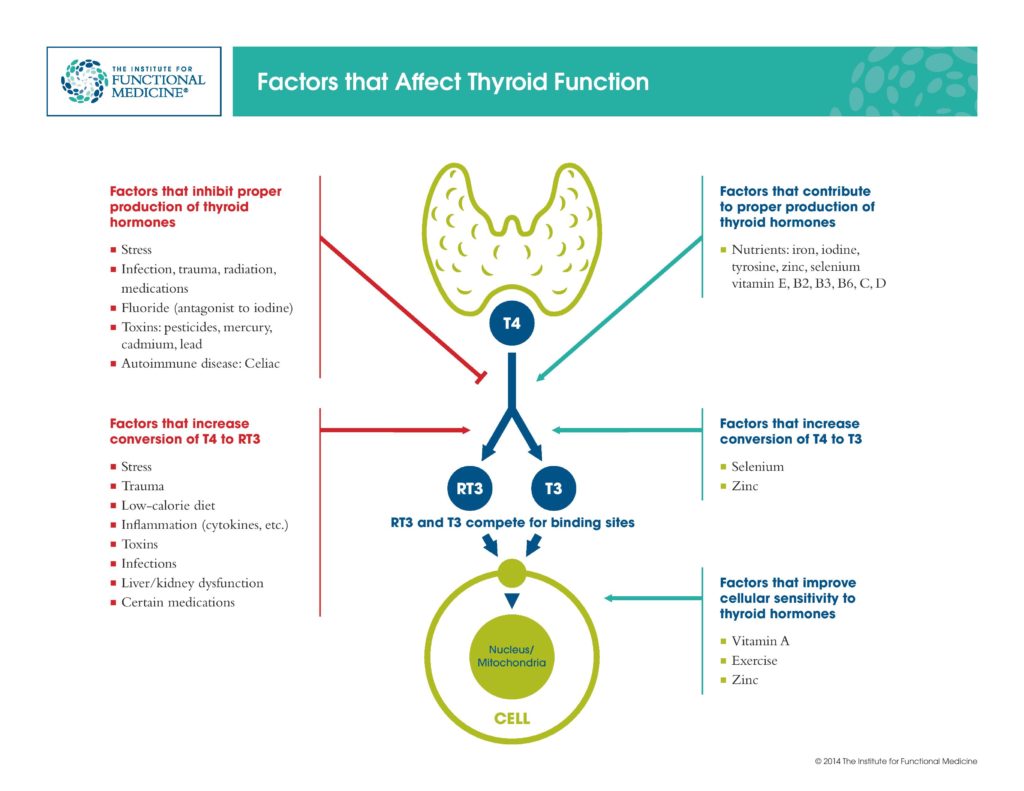 If you or anyone you know may be suffering from thyroid disorder, contact us today at 970-278-0900 or visit us at our website at www.restorehealthcenter.net. Your health and wellness, including your thyroid health, are our top priority. Ready to get started? Please click here to learn more about our services and contact us to set up a consultation.